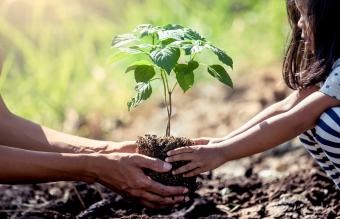 Memorial tree poems are a great way to provide comforting words and a wonderful gift to a loved one experiencing a loss. Use these original memorial tree poems on your tree plaque or certificate.
Memorial Tree Poems
Giving someone a memorial tree works as a great way to celebrate the life of someone they lost. Why? Because memorial trees represent families and your roots. However, ideas for how to make your memorial tree special can be difficult. Several poems are out there that are used over and over for memorial tree poems. However, you can get creative with one of these original poems by Jennifer Betts. You might also use these as a starting point to create your own customized memorial tree poem for your tree plaque or certificate. You can also use them at the memorial tree dedication.
My Spirit Lives On
When this day is done.
Bask in the sun.
Enjoy my shade.
Though it was time to trade,
My feet for wings.
Just watch what each new day brings.
Remember to be brave.
For I'm not in a grave.
My spirit is lives on.
You can see me in each new dawn.
Each Branch
Each branch is a memory.
Each blossom letting you know,
I'm still here with you.
Remember Me
Remember me.
As solid as an oak.
Remember me.
Sweet as a new blossom.
Remember me.
Each day protecting you.

Remember me.
Keeping you securely in my branches.
Remember me.
When the wind rustles my leaves.
Remember me.
Because I am with you.
Tree of Life
The family tree,
Lost a limb today.
Though, it's hard,
I could not stay.

In your favorite spot,
Plant this tree.
With each different season
Think of me.
As you watch it grow,
Delight in our memories.
I want you to know.
I'm always with you.
Plant a Tree
Plant a tree for me.
So the whole world can see.
Watch it grow and smile.
It will take a while.
Let it grow up big and tall.
But even if it's small.
It's a reminder of me.
And for you to be happy.
Look at This Tree
Look at this tree,
And remember me.
Think of all the smiles.
Dance in our memories.
Remember our traditions.
Relive the fun.
I know you will grieve.
But let it's growing leaves.
Remind you of me.
Think of Me
As it grows big and tall
Think of me.
As you sit under its shade
Think of me.

As it protects you from the storm
Think of me.

As you climb its branches.
Think of me.
Until we meet again.
Together Again
This is not the end.
It is a new beginning.
Grow this tree.
And think of our time together.
Smile about the good times.
Remember the hard.
Talk about me often.
Smile when you hear my name.
Watch my tree grow taller.
And now we'll be together again.
Love Never Fades
Love never fades.
It never goes away.
Though my body is not here.
My love for you is strong.
Like this tree.
It grows bigger and stronger.
Each memory keeping me alive,
In the area of your heart.
Love never fades.
It will never go away.
Silently, I walk beside you.
Watching our tree grow.
Every day, every moment,
I am there.
Like this tree,
I will be with you.
Like the Wind
Like the wind,
Memories move around us.
Ruffling out leaves.
My soul is free.
Riding on the wind.
Lightly swaying in the night.
I light your way.
Guiding you to the warmth.
Silently holding your hand.
With you, I will always be.
Because I'm part of your memory.
Until it's time for us to meet once more.
The Perfect Memorial Tree Poem
Choosing the perfect memorial tree poem and sayings for a lost loved one can be hard. However, find the one that means the most to you or that you think will be the most solace and comfort for the family. You might also choose these as a starting point for creating a customized memorial tree poem of your own.