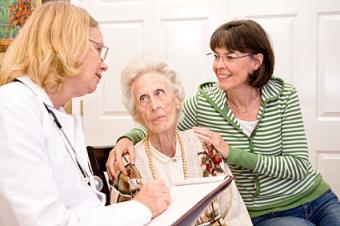 When a patient is diagnosed with an incurable disease, the patient and his family can be overwhelmed with quandaries like, "what questions should I ask about hospice care?" However dizzying end-of-life care options may be, patients and their caregivers will need to evaluate all hospice options carefully.
What Questions Should I Ask About Hospice Care in the Home?
Most hospice care is provided in the home. This may be a viable option even if the patient needs a great deal of physical care. However, you'll need to evaluate each hospice agency carefully to see if what they offer is a good fit for what your family needs.
Financial Arrangements
You should first inquire with the patient's primary care physician about the procedure for accessing hospice care in your community. In most cases, the primary physician needs to sign a form that states the patient has an incurable illness and is expected to die within a given time, often under six months. Once the paperwork for precertification is completed, the hospice agency assumes responsibility for all care. Ask the hospice agency whether the transfer of benefits will cover all services or whether there will be additional charges. Some private policies limit the number of days a client can be covered under hospice care. Contact either the financial manager at the hospice agency or a case manager at your insurance company to see if this applies to you. Medicare coverage for hospice is subject to frequent changes, so if the patient has Medicare as their primary insurance, make sure you will have access to a seasoned case manager at the hospice agency to help navigate the red tape.
Primary Contacts
Ask who your primary staff contact will be. In-home hospice care is usually supervised by a registered nurse. Ask about her training and certification requirements. You should also be able to reach a medical director if needed.
Pharmacy
Especially if pain management has been an issue, one of the most important services a hospice agency can provide is access to specialized pharmacy services. Make sure to inquire if the hospice agency can deliver medications to a patient's home.
Nursing Care
Most home hospice agencies provide a registered nurse as the primary contact for the patient and family. This nurse will most often provide periodic nursing care, including wound care and medication management. If the patient has an issue that requires continual medical care, the agency should offer the number of hours of skilled nursing care appropriate to the situation. This will usually be negotiated on a case-by-case basis.
Nursing Aide Care
Some patients need assistance with activities of daily living such as getting dressed, eating or using the bathroom; things that don't specifically require skilled nursing. The hospice agency should be willing to approve nursing aide care for a specific number of hours per day, based on the patient's condition.
Durable Medical Equipment
Hospices should be able to provide any durable medical equipment for patients in their care. Examples of such items include portable commodes or suction machines. Ask if the agency works with an outside vendor to obtain medical equipment or if they handle this in-house. Confirm that any needed equipment can be delivered to the home.
Spiritual Services
If chaplain care interests you, ask if the hospice agency has access to spiritual services. Any chaplains the hospice provides should be experienced specifically in providing spiritual direction to seriously ill patients.
Volunteers
Some home hospice agencies are able to provide unskilled or semi-skilled volunteers to help out with minor tasks in the home or to be a social support. For patients and families with a limited support system, this volunteer help can be useful. Ask if the agency has volunteers, and if so, what they are trained and permitted to do.
Social Workers
All hospice patients and their families should have access to at least a master's level trained social worker. The social workers can help with accessing resources and dealing with emotional difficulties. Make sure to ask about how you can contact a social worker, as well as whether they are also able to travel to the house or whether you will need to travel to them.
Contingency Plan
Although many patients prefer to die at home, it's good to ask the person coordinating your hospice care about contingency plans for patients who require more care than the family is able to give. Ideally, the hospice organization should provide respite care in a hospice, rather than hospital, environment.
Questions to Ask About Facility-Based Hospice Care
It is less common for inpatient facilities to provide hospice care. However, when caregiving conditions are not appropriate for in-home hospice care, moving to a well-run hospice facility can be a relief for both a patient and his family. Although hospice facilities are subject to stringent licensing requirements, it's still important for patients and their family members to visit the facility and ask pertinent questions.
Payment Arrangements
Inquire about any additional costs to the patient or family members such as laundry, specialized food items, or activities. Before you commit to an inpatient hospice facility, always check with your insurance company about any limitations on the number of days of inpatient hospice care.
Services Offered
In facility based hospice care, all of the services and care will usually be included in the basic fees, but it's up to the consumer to make sure that these services are adequate for the patient. Ask for a tour; talk with the other patients about the general ambiance and cleanliness, as well as the quality of food.
Visiting Arrangements
Families should be able to visit at any time, and should be able to stay overnight. Inquire about cots or comfortable sleeping chairs. This can make a big difference in visitor comfort.
Making the Choice
There is nothing easy about the process of death and dying or selecting hospice care. It's important to consider, "what questions should I ask about hospice care." With diligent research, you can determine which hospice care situation is the best for you or your family member.