The process of losing a parent will look different for every individual. During this time, emotions may overwhelm some and the reality of having to complete certain time-sensitive tasks may add an extra layer of stress.
Emotionally Preparing for a Loss
Witnessing the process of a parent passing away, whether you have a close relationship or not, may feel very intense to go through. It is completely normal to feel a range of emotions. You may have begun the grieving process as your parent began to decline, but as their death nears, you may feel numb, angry, upset, disturbed, heartbroken, or a combination. If you are finding this time to be too overwhelming and you're having trouble eating, sleeping, or thinking about anything else, you can consider speaking to a counselor or joining a support group.
Printable Checklist for Practical Preparations
Use a free printable checklist to help you prepare for the death of a parent in a practical way. This way, you have notes on what's been started and what still needs to get done one your parent passes away. Download and print it using Adobe.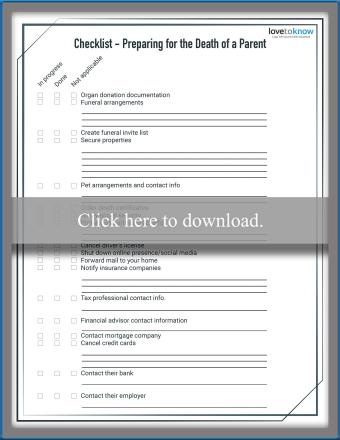 Understand Their Funeral Plans
Your parent may have disclosed funeral or memorial preferences. If not, and they are able to communicate with you, you may want to find out what their preferences are as soon as possible. If not, the closest of kin or executor of the estate is entitled to make the best decision possible with their loved one's interests in mind. You may want to ask them about or consider:
If they would like to be buried, cremated, or another specified option and where
If there are certain people they'd like to be at their memorial who you would be unaware of
If they have a preference for memorial plans and who they'd like to lead the service
If they've picked out a casket or tombstone
How much money they've set aside for the funeral, or if you will need to pay (consider budget, who may be able to assist you, and restrictions)
If and where the reception will take place and how many approximate guests will attend
Organize Who to Contact
If your loved one is able to communicate, take note of who they'd like to come to their memorial. Ask about specific groups they may have belonged to, past friends from school, or anyone else that you may not be aware of. If they are struggling to communicate, reach out to their closest friends and try to get a list and contact information of those who they think your parent would want to be there. Creating a list of whom to contact for the memorial before they pass away can help you plan the funeral arrangements much more quickly without having to stress about finding certain people's contact information.
Check for Organ Donation Plan
To see if you loved one is an organ donor, you can check their driver's license or advanced healthcare directive forms. If they are an organ donor and are not currently being monitored in a hospital setting, they are not eligible for donation. If they are in a hospital setting, be sure to inform whoever is treating them that they are a donor if they don't already have this information.
Make Property and Pet Arrangements
Prior to your parent passing away, it's important to have their property and pets taken care of appropriately so you don't need to worry about this later on. To do so:
Make sure their home has been locked, all appliances are off, windows are secured, and their landlord (if applicable) is made aware of the situation.
Forward their mail to your home and keep their bills organized so they can be paid as soon as possible.
If they have pets, be sure that you have someone lined up who is able to take care of them appropriately in the interim or adopt them permanently.
Their will may have further instructions regarding their wishes for their pets and property.
What to Do After the Funeral or Memorial
After the funeral, there are a few tasks that should be taken care of as soon as possible. You should:
Order a few copies of your parent's death certificate as some (insurance companies, banks, financial accounts, etc.) may need it as proof of death.
Notify Social Security of your parent passing away if you haven't already authorized the funeral home to do so and find out about any death benefits you may be entitled to.
Meet with probate attorney regarding the estate.
Notify their health insurance, life insurance, and any other insurance companies of their passing and be ready to send a copy of their death certificate to each company.
Cancel their driver's license so they are no longer in the system by contacting the DMV.
Close any accounts linked to an online presence.
Handling Their Finances
Dealing with the financial aspect of a parent passing away can be one of the most overwhelming tasks for some. If you are the executor, consider consulting with a lawyer who can assist you during this time. You will also need to:
Notify a tax professional and file returns appropriately.
If your parent had a financial advisor, notify them of the recent passing and find out who can access their accounts.
If applicable, notify the mortgage company.
Cancel credit cards and notify companies of the recent death.
Contact their bank and be ready to show them a copy of the death certificate.

Contact their employer if they were still working to let them know what happened and find out if you will be receiving any benefits.
Feeling As Prepared As Possible
The process of losing a parent can be incredibly stressful to go through. As intense emotions may arise, it can feel helpful to have an organized list of tasks that need to be completed so you at least won't have to worry about forgetting critical tasks that have a specified timeframe.