A funeral salad is a side dish at a funeral reception meal or can be a quick, comforting dish to bring to a grieving friend, relative, or neighbor. Decide what type of salad you're bringing and pull it together quickly.
Classic Funeral Salad Recipes
Having a couple traditional funeral salad recipes on hand makes it easy to whip something up quickly.
Classic Watergate Salad
Also referred to as pineapple pistachio salad, pistachio "fluff" or "funeral" salad, this is a traditional pudding salad option served at funerals across the Midwest and other parts of the country. Each region, person, and family has their own favorite version. Ingredients include:
1 box pistachio instant pudding
1 (15-ounce) jar of pineapple chunks (do not drain)
1-1/2 cups whipped cream
1/2 to 1 cup of crushed pecans
1 to 2 cups of mini marshmallows
Make the Watergate salad by following these instructions:
Mix pudding, pineapple chunks with juice, marshmallows and 1/2 cup of pecans together.
Fold in the whipped cream.
Chill for 2 to 4 hours or covered overnight.
Keep in refrigerator until ready to serve.
Top with additional pecans before serving.
Macaroni and Pea Salad
Cold pea salad is simple and quick, but for a heartier version, add in a little pasta. Ingredients include:
1 pound frozen peas, thawed in the refrigerator and dried
1 cup cubed cheddar cheese
1/2 red onion, diced
2 cups macaroni noodles, cooked until al dente and cooled
2 cups mayonnaise or similar sandwich spread
2 to 3 tablespoons white sugar, to taste
Dash of white vinegar
Freshly ground black pepper, to taste
Cooked and crumbled bacon as garnish
To make the macaroni and pea salad:
Mix the mayonnaise, white sugar, vinegar, and black pepper in a small bowl. Set aside.
Toss the peas, red onion, macaroni noodles, and cheese together in a large bowl.
Pour the mayonnaise mixture over the pea mixture.
Stir to combine.
Store up to two days in the refrigerator.
Garnish with cooked and crumbled bacon before serving.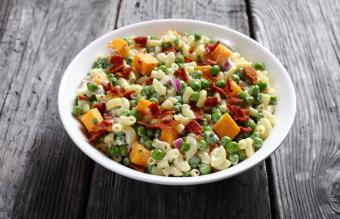 Easy Funeral Jell-O Salad Fluff
Despite having the word "salad" in its name, it is less like a salad and more of a sweet side which can be comforting. While many classic recipes incorporate cottage cheese, this one leaves it out in favor of simplicity and modern palates. It can be modified by selecting different combinations of fruit and gelatin. Mix things up with two different but complementary flavors or keep things simple by picking the same fruit and gelatin flavor. Popular options include orange, strawberry, and cherry. Ingredients include:
1 box instant gelatin in your favorite fruit flavor
1 cup boiling water
1 cup cold water
1 cup sliced fruit of your choice
2 cups whipped topping
1 cup mini marshmallows, optional
To make this gelatin salad:
Bring 1 cup of water to a low boil.
Quickly remove from heat.
Stir in the box of instant gelatin.
Once dissolved, add 1 cup of cold water.
Place in refrigerator until it is about halfway set -- you don't want it to be firm, but it should no longer be liquid, either. This can take anywhere from 30 minutes to 1 hour.
Stir in sliced fruit.
Fold in whipped topping and optional marshmallows.
Creamy Cucumber Salad
This salad is quick and easy to mix up. Due to the water content of cucumbers, it's best to make this salad the same day it will be served. Ingredients include:
4 cucumbers, peeled and sliced
1 red onion, diced
1/2 cup sour cream
2 tablespoons white vinegar
1 tablespoon dill
Salt and pepper, to taste
Fresh dill, to garnish as desired
To make this salad:
Mix sour cream, white vinegar, dill, and salt and pepper in a small bowl.
Toss cucumbers and onion together.
Pour sour cream mixture over the cucumbers and onion.
Mix well.
Keep chilled until it is time to serve.
Add optional garnish of fresh dill.
Traditional Pasta and Potato Funeral Salads
Carbs are often comforting, and pasta and potato salads fulfill this need. Consider making:
Vegetable and Fruit Salads for Funerals
Vegetables and fruit made excellent side dishes and salads for a funeral. A few options include:
Delicious Salads
A delicious salad is a good choice to bring to a funeral reception or someone's home as a comforting dish. Look for a salad that you think the family will enjoy.