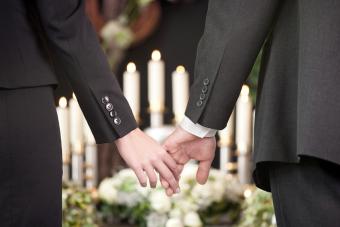 Music is an important part of Christian funerals. Finding songs that fit the occasion and send the right message can take some thought. Depending on how you want to honor the deceased, you can choose from more traditional hymns or contemporary Christian music for the funeral, or even include a mix of many styles from different eras. Explore several options in your quest to find the best Christian funeral songs for your loved one's service.
Contemporary Christian Funeral Songs
The Christian contemporary genre is extremely popular, with many artists reaching superstar status. There are several contemporary religious musical selections that work wonderfully as Christian songs for a funeral. Consider the options below.
Heaven Song
Phil Wickham's Heaven Song is a hauntingly beautiful song about transitioning from one's earthly life to joining the angels in heaven. It will provide a comforting and reassuring message of hope to the mourners who gather to say goodbye to a loved one at a funeral.
I Can Only Imagine
Recorded by popular Christian rock group MercyMe, I Can Only Imagine speaks to what it might feel like to be with God in heaven. The song was written by the band about the death of the father of one of its members. If you prefer a different version, try the cover versions by pop singer Susan Boyle or gospel singer Tamela Mann.
Broken Vessels (Amazing Grace)
Broken Vessels is an alternate version of Amazing Grace that was created by the Christian group Hillsong Worship. This incredibly beautiful song features an amalgamation of the traditional Amazing Grace lyrics and arrangement, coupled with new lyrics that present "broken" imagery reflecting a sad, but hopeful, reflection on life.
I Will Rise
Chris Tomlin's I Will Rise is an ideal Christian song for a funeral. The lyrics emphasize the victory of Jesus as He rose from the dead and how His followers will be called to rise and follow in due time, after which they will no longer experience pain or sorrow.
Modern Music for Christian Funerals
It's not only artists in the contemporary Christian genre who have recorded religious songs appropriate to play at funerals. Many such songs are released by artists who specialize in Christian music, though some are recorded by musicians who primarily perform in other genres, such as country, pop, and rhythm and blues. Guests are sure to quickly recognize tunes like the ones below.
Hallelujah
Originally written and recorded by Leonard Cohen, Hallelujah is a somber song that has been covered by many artists such as Pentatonix, Jeff Buckley, and Willie Nelson. The song's lyrics are based on biblical themes and the sad, melancholic tone is fitting for a funeral.
Dancing in the Sky
Written and performed by Canadian twins Dani and Lizzy Nelson, Dancing in the Sky became a viral hit on YouTube. The pair wrote the song after a close friend died. The lyrics relay that despite the pain of missing the deceased, they hope their friend is now "dancing in the sky" in heaven.
Broken Halos
Country music lovers may gravitate toward having Broken Halos by Chris Stapleton played at a funeral for a loved one. It focuses on a person who died too young. It could be appropriate for a funeral for a younger person or an individual who passed away at any age.
Tears in Heaven
Tears in Heaven is a touching song that was written by rock musician Eric Clapton after the death of his young son. Although the song has a melancholy vibe, it also expresses hope that someday everyone will see their loved ones again in heaven.
Angel
Angel is a gentle yet haunting song. It combines Sarah McLachlan's soothing vocals and a hopeful message of peace and comfort "in the arms of the angel." The lyrics convey the image of the deceased being carried away in the arms of an angel to a better place.
Uplifting Songs for Christian Funerals
Although funerals can be somber occasions, it can be appropriate to play music with an uplifting message to help mourners deal with their grief and remind them of the deceased's moving on to heaven. Explore these inspirational options:
You Raise Me Up
Josh Groban's You Raise Me Up was released in 2001. This contemporary song has inspirational, uplifting lyrics that focus on faith and how it can provide strength through even the most difficult times. While the song does not specifically mention God or religion, this song has deeply religious overtones and has been described as a hymn. The song can also be interpreted in the context of the power of any deep relationship.
Spirit in the Sky
Spirit in the Sky may seem like an unusual choice for a funeral with its rollicking, jovial tone, but the lyrics make it a perfect fit. The song sounds like gospel music crossed with 60s rock and roll. You can choose the original version by Norman Greenbaum from 1969, or a more recent cover by Elton John.
I'll See You Again
Westlife's I'll See You Again is an uplifting reminder that death does not mean mourners are permanently separated from their loved one who has passed away. Though the melody is haunting, the message is one of hope and the promise of reunion to come in the future.
Blessed Be Your Name
Blessed Be Your Name is a praise and worship song that is an uplifting selection for a Christian funeral. It reminds mourners that even in the darkest times, the Lord is there for them and helps them focus on the importance and value of their faith, even at such a difficult time of loss.
All My Tears
Most recently released by Burns and Kristy, All My Tears is a combination of country, folk, and spiritual music that makes a wonderful selection for a Christian funeral. The song, which was previously recorded by Emmylou Harris, Julie Miller, and other artists, has a sad melody, but a message of hope. The lyrics express that the deceased is now free and with God and advises listeners to "weep not for me my friend."
Traditional Christian Funeral Songs
If you are going for a more traditional and somber theme, choose among a selection of traditional religious funeral songs that have been used for many years. You may find inspiration from hymns for Catholic funerals, or your church's staff may be able to recommend some Christian funeral hymns. Good options to consider include:
Amazing Grace
This beautiful hymn has long been a favorite for funerals. Some funeral services that choose to play Amazing Grace will also bring in a person to play Scottish bagpipes to fit with the theme. If you choose to play a recorded version of the song rather than have a live singer, there are many versions to choose from with popular singers such as beloved musician Judy Collins, opera singer Andrea Bocelli, the Queen of Soul Aretha Franklin, country singer LeAnn Rimes and even Elvis Presley.
Rock of Ages
Rock of Ages is another traditional hymn that works well for funerals. The song's lyrics fit in with a funeral as they remind listeners that God is there for you even during the stormy and difficult times. There are many recorded versions of the song by well-known singers such as gospel artist Amy Grant and famous singers like Johnny Cash and Aretha Franklin.
Abide With Me
Abide With Me is a traditional Scottish hymn from the 1800s. Written by Henry Francis Lyte, this song is often a part of traditional Christian funeral services. It is inspired by the scriptures Luke 24:29 and 1 Corinthians 15:55. You can find instrumental versions to play, as well as versions with the lyrics sung by artists like Audrey Assad.
Victory in Jesus
This hymn Victory in Jesus was written by composer E.M. Barlett and is often played at funerals. This song had its origins in evangelical Christian and gospel ceremonies. It has been recorded by several Christian and gospel artists, including the version by the Christian Gospel Choir and the group Selah.
Angels Among Us
The band Alabama recorded Angels Among Us in the 1980s and the country/gospel song has been played at funerals ever since. The song's subject matter focuses on how those who have passed on will still be with us as angels to guide and support us. The song includes a chorus of children accompanying the band singing the uplifting lyrics.
Finding the Best Christian Funeral Songs
The songs listed above are just the beginning of worship song possibilities for funeral services. There are many other moving and popular funeral songs you may want to consider. The first step is to decide on the tone of the funeral and then look for songs with lyrics and melodies that speak to that feeling. Depending on the funeral, you may want to use traditional, quieter songs with reflective and religious lyrics, or more inspiring, upbeat songs to get the audience to feel good about their experiences with the deceased and remember them positively. The key is to choose a song that provides comfort to the mourners while also reinforcing the Christian faith of their departed loved one.