MakIng a Funeral Slideshow: Honor a Loved One's Legacy
Creating a funeral slideshow is a wonderful way to honor a loved one and share some of their favorite memories. Funeral slideshows may be shown at the service or during the repast afterwards.
Funeral Slideshow
When creating your funeral slideshow, it's important to think about the context in which it will be shown. You can:
Play the slideshow quietly in the background of the funeral service
Play the slideshow as the main feature post funeral service or at the repast
How to Make a Funeral Slideshow
Breaking down the steps to making a funeral slideshow may help you stay organized. In general:
Begin by deciding where the slideshow will play.
Decide how long you'd like the slideshow to be (60 to 100 pictures is around five to seven minutes long).
Gather and organize pictures; these can be hard copies or from the deceased individual's social media pages (make sure you've narrowed down your image selections and only organize the ones you'll be using).
Scan and save all images to a cloud service.
In an already created order, add your photos to the slideshow slides.
Make sure the first and last photo represents the deceased individual's personality and add a note from the family (In memory of, Forever missed, We love you, etc.)
Add text to some photos if you feel they need context (names of others in the photo and/or dates), or at the beginning of a cluster of photos (Family Vacations, Wedding Day, Having Fun).
Select your song or songs to add to the slideshow
Do a run-through of the slideshow with trusted loved ones who can give you feedback.
Be sure your slideshow is saved on a cloud service so you don't lose any work.
What Goes Into a Funeral Slideshow?
When selecting images for a funeral slideshow, it's best to focus on key life memories, as well as images that represent the deceased individual's personality. You may consider including:
Baby pictures of the deceased individual
Childhood photos
Images of graduation and award ceremonies
Vacation photos
Pictures of major life events
Images from their social media
Images of the deceased individual and their loved ones
Images of their favorite hobbies
Images of their pets
Video clips that capture their personality
Music that amplifies the emotional tone you are going for
Quotes that were meaningful to them
A note from the family at the end of the slideshow and/or at the beginning of the slideshow
How Many Pictures Should a Funeral Slideshow Have?
The amount of images in a slideshow will vary depending on when and where the slideshow is played. For example, if you play the slideshow in the background on a loop at the funeral service or during the repast, but do not make the slideshow a feature, you can pick as many images as you'd like since it will play on repeat. You may:
Select 20 to 100 photos to play on a loop if the slideshow is not being featured
Select 30 to 100 photos to be used in a slideshow that will be featured- this will give you around five minutes of slideshow material
Once you have selected the images, you will need to scan them and upload them to your computer. You can download an app to scan the images via your phone, or use an actual scanner. Make sure you save the photos on a cloud storage service so you can work on this project over time.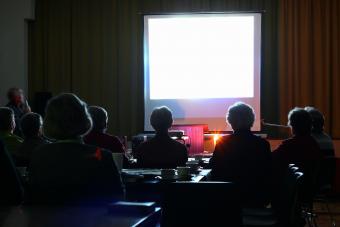 How to Make a Funeral Slideshow With Music?
Prior to selecting the music, it's important to come up with the concept you'd like to use for the funeral slideshow.
Consider the story of your slideshow- Do you want to tell their life story chronologically, or grouped together by major life events?
Once you've organized your photos, you may consider adding short captions that give the viewer some context (dates, names of others in the photo, type of life event).
You may select one song to play for short slideshow or a few to play throughout a longer slideshow.
When selecting a song or songs, be sure to use the deceased individual's personality to help guide you. You may pick a more upbeat or lighthearted song to play during their childhood or special life events. Towards the end of the slideshow, you may select a song that harkens back to the emotional intensity of the funeral and how much everyone will miss them.
Funeral Slideshow Songs
Funeral slideshow songs will vary greatly and should be based on the tone you are trying to evoke. When selecting a song or songs, you may consider:
Using the deceased individual's favorite song
Using a wedding song
Using a song written by the deceased individual's favorite artist
Religious songs if religion was an important aspect of the deceased individual's life
Memorial Video Ideas
Memorial video ideas include:
Start the video with an image that captures the personality of the deceased individual. You may also include a favorite quote and their birthdate and date of passing.
Use their personality to inform what you include in the sideshow. For example, if they loved to make jokes or be silly, include images and quotes that represent this.
Cluster images according to life event (for example, if they always took the same vacation every year, you can cluster those images together).
Chronologically organize images.
End the slideshow with a quote that represents the deceased individual, or an image of them with either a tribute quote, or the name of an organization you can donate to in their name.
How Do I Make a Tribute Slideshow?
Making a funeral slideshow is a wonderful way to honor your loved one. Be sure to decide on a concept before beginning, and ask for help if needed. Remember, creating a funeral slideshow may feel overwhelming, so be sure to take care of yourself and take breaks as needed.