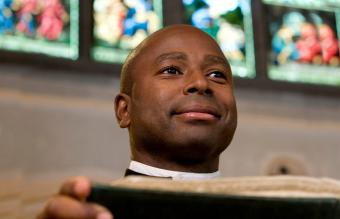 If you've decided to write a funny eulogy, be sure that it is appropriate given your loved one's personality. Writing a funny eulogy can capture the spirit of your deceased loved one and makes for a wonderful way to honor their personality.
How to Write a Funny Eulogy
When you set out to write a funny and lighthearted eulogy, be sure you are in the proper mindset before getting started. After losing a loved one, you may experience ups and downs associated with the grieving process, so be patient and kind to yourself as you work on the eulogy. Put the typical information into the eulogy but make sure you pay special attention to:
Setting the tone and mention the deceased individual's specific sense of humor towards the beginning of your tribute
Jotting down favorite, funny stories or incidents
Including a funny poem or saying
Funny Eulogy Examples
It may feel difficult to get started with the eulogy, but it can be helpful and inspiring to read some funny eulogy examples. Keep in mind, when writing something funny, silly, or lighthearted, it's important to customize the examples or templates you are using so it captures your deceased loved one's unique personality.
Funny Eulogy Example for a Freind
"(Insert deceased individual's name) was the most incredible friend who would bend over backwards for those (he/she/they) cared about and I consider myself one of the lucky ones who got to be a part of their life. Let's face it (insert deceased individual's name) was pretty choosy when it came to picking friends. Looking around- I'm surprised some of you made the cut. In all seriousness, (insert deceased individual's name) will be missed deeply, but our memories together will be forever cherished."
Humorous Eulogy Example for a Mother
"(Insert deceased individual's name) was a true gem and the kindest person I've ever known. While she soft-spoken in nature, many of you have seen her unleash her inner beast. If you've never seen this side of her, I'm sorry, because it's hilarious. I remember when I was a teen, we went to the mall together. In the parking lot, she had her blinker on and waited patiently for a parking spot when someone swooped in and stole it. While I looked around for another spot, (insert deceased individual's name) had a different idea. After gently chastising the person for their inappropriate parking lot behavior, (insert decease individual's name) decided to place chewed gum on the handle of their car so they would get a surprise when they went to leave. I will miss her spunky spirit and mostly kind nature, and I guarantee she's haunting the spot stealer as we speak. Love you forever (insert deceased individual's name)."
Funny Eulogy Example for a Father
"My father (insert deceased individual's name) always poked fun at himself and honestly it for good reason. He had the funniest quirks that kept his friends and family entertained around the clock. If you know my father well, you know that once he's obsessed something, he's hooked. From colonial literature, to presidential history, the tales of pirates, to eating a specific diet that he won't follow but loves to talk about, (insert deceased individual's name) gives us a lot of comedic material 24/7. While we wish Captain Colonial could be here with us today, we are honored to celebrate his wonderful life and the memories we have all shared with him. He truly brought an immense amount of joy and laughter into our world and we will miss him dearly."
Funny Eulogy for Grandfather
"My grandfather (insert deceased individual's name) was the friendliest and warmest person in the entire world. I remember as a child standing in awe as I watched him charismatically chat up complete strangers, and as the years went by, nothing changed. He would make friends as he picked me up from school and later on when he would meet me at work for our once a week lunch. Many of you here today, are his closest friends, and he probably chatted you up at the grocery store, in my office building, or any other place one goes for errands. I will miss his loving nature and his dedication to connecting with others. I will love and miss (insert deceased individual's name) for the rest of my days, and every time I run errands, I will think of him."
Eulogy Example for a Colleague
"I am so honored to speak about (insert deceased individual's name) today. I'm (insert name), and even though we met through work, our friendship blossomed quickly as we discovered we had a fair amount in common. Not only did we grow up in the same area, but we studied the same major in college, took similar internships, and settled down in the same town where we both had two children with spouses who share the same name. Honestly, saying this out loud, I'm beginning to think we had somewhat of a cloning situation on our hands. Anyway, moving along, (insert deceased individual's name) was one of the best people I've ever met and will be deeply missed. It was an honor and privilege to share the years we had together."
Funny Eulogy Quotes
If you don't want your entire eulogy speech to have a serious tone, you can consider including a funny quip or thought to lighten you tribute a bit. Just make sure you know your audience if you plan on using sarcastic or death related humor. Some funny eulogy quotes include:
"One of the hardest things I've ever had to do was say goodbye to you, your kindness, your love, and your amazing fart jokes."
"No one could pull off leopard print like (insert deceased individual's name). I mean if she (he) were here today, she'd (he'd) be rocking an aggressively leopard look head to toe and be judging us for not wearing it."
"(Insert deceased individual's name) and I used to stand around sampling the most bizarre food combinations we could imagine and we loved doing it. Now I'm stuck doing our fun and very, very, very weird food parties solo, and to be honest that doesn't make me feel great."
"(Insert deceased individual's name) was the most competitive person I've ever met. From cooking battles, to our weekly tennis game, (insert deceased individual's name) loved to win. She (he) was so competitive, she (he) even triumphed over me when it came to death."
Tips for Writing Funny Memorials
A few tips to help you write a hilarious but appropriate memorial will make the process easier.
If you are giving a speech at a celebration of life, keep with the tone of the event and use your deceased loved one's personality as inspiration for what you plan on saying. For example, if they were very sarcastic, you may consider quoting something that they often said in your speech.
When writing an obituary, use your deceased loved one's personality as inspiration and discuss brief, funny moments shared together. You can also consider bringing up their unique quirks that made them who they were.
On a memorial page, you can write sayings, share funny memories, and write notes to those in the process of mourning. On some pages, you may be able to share favorite pictures as well. Look for ones that capture your loved one's jovial personality.
How Do You Write the Perfect Eulogy?
Take your time writing your eulogy speech and reach out for help if you feel stuck. Note that the whole speech doesn't need to be lighthearted, but including a bit of humor, wit, or silliness can capture your deceased loved one's sense of humor and honor their personality.