Funeral flower for men include all types and many designs to provide personal touches. You can choose special funeral flower arrangements selected just for a man, so your arrangement expresses your sentiments.
Funeral Flower Arrangements for Men
You can choose from bouquets, standing sprays, standing wreaths, casket sprays, and floral tributes. Once you decide on the type of flower design to send, you need to select the color(s) and type of flowers you want.
Types of Funeral Flowers for Men
There are several kinds of funeral flower arrangements for men Some traditional types of funeral flowers include flowers that have specific meanings. If you have a difficult time deciding on which type of flower to send, you may want to consider the meanings.
A few popular types of funeral flowers for men include:
Easter lilies (trumpet lilies) are considered a religious symbol of Jesus Christ and the Resurrection.
Calla lilies are a popular funeral flower that's associated with innocence and rebirth.
White Stargazer lilies are recognized as expressions of sympathy.
Carnations are popular funeral flowers, especially for men, and convey the message of remembrance.
Gladioli are a popular funeral flower used in fan sprays since they are very tall flowers and are symbols of character strength.
Chrysanthemums are popular funeral flower choices for men. They are symbols of grief and sorrow.
Roses are symbols of passion that range from grief, reverence, and love.
What Color Flowers Are Appropriate for a Man's Funeral?
Traditionally, the colors assigned to a man were darker and bold hues, such as eggplant, violet, burgundy, maroon, russet, or dark blue. However, there isn't any reason you can't choose more vibrant colors, especially if the man had a robust and bigger than life personality.
Bright Colors for Flowers
When you break away from traditional colors for funeral flowers for men, you may discover a bright yellow is a better floral testament to the deceased than dark subdued colors. Other color choices that you might prefer include orange, dark pink, saffron, pale blue, lavender, or green.
Red, White, and Blue
As you can see, there many choices when it comes to selecting funeral flowers for men. For example, if the deceased's favorite color was red, then you can choose two or three types of red flowers. Another option might be a red and white flower combination. If he was a patriot, then you may decide red, white, and blue flowers best show your respect for his patriotism, especially if he served in the military.
Meaning of Rose Colors
Roses are a popular funeral flower for men. Rose colors carry specific meanings you may wish to consider before selecting a specific color.
White roses mean purity, innocence, and spirituality.
Red roses are the symbol of deep love and heartbroken grief.
Yellow roses are the symbol of a dear friend and a good choice to send a man who was a close
A funeral spray is a large floral bouquet that is designed to lay flat. This may be a casket spray, or a spray designed to be displayed on an easel.
Funeral Sprays for Men
Funeral sprays for men can be those displayed on easels as standing sprays that consist of long stem plants, ferns, large flat leaves, and various plant materials for the bed of flowers. The florist delivers the funeral sprays to the funeral home for the viewing and/or visitation. The funeral home then takes the flowers to the church and/or graveside service.
Funeral Sprays Left at Cemetery
Funeral floral sprays are always left at the gravesite. When the flowers are spent, the cemetery groundskeeper removes and disposes of them.
Selecting Type of Standing Funeral Sprays for Men
You can choose from different standing funeral sprays, such as a cross, wreath, or heart-shaped. Standing sprays can also be artistic displays of floral designs, such as a spray that arches over the stand, a broken heart design that uses red flowers for the heart and white flowers to cut a zigzag through the heart. Another popular standing spray design is the American flag.
Casket Sprays
A casket spray is considered the main floral arrangement of a funeral. The casket spray is designed to cover the casket when it is a closed casket service and half of the casket lid when it is an open casket service.
Choosing Flowers for a Casket Spray
The spouse and/or immediate family are responsible for selecting the casket spray. If the task falls to you, consider your loved one and his favorite colors. If he had a favorite flower, you can choose it. If the deceased didn't have a special flower or color, you will select the type of flowers, flower color(s) and spray design according to personal preferences.
Flower Colors and Flower Types for Casket Spray
You may choose to use all white flowers contrasted against different types of greenery. You might choose white dendrobium orchids, green hydrangea, and white calla lilies. You may prefer white roses, mums, tulips, snapdragons, carnations, lilies, and tulips. You can always choose colors and mix in white flowers or go with one color, such as red or purple.
Floor Basket for Funeral Flowers for Men
Another type of floral arrangement you may consider for a man are floor baskets. This type of design appears to fan out from the floor (container) and features tall flowers and plants, such as palm fronds and various lush greenery. Calla lilies, gladioli, bells of Ireland, long stem roses, iris, hydrangeas, spider mums, and snapdragons are a few of the favorites used for floor baskets for men.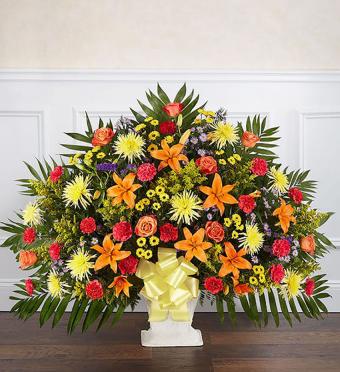 Unique Funeral Ideas for Flowers
You may decide you don't want to send a traditional style of funeral flower arrangement for a man's funeral. There are other floral tribute choices that are unique and may be the perfect way to honor and remember your loved ones.
Funeral Floral Tribute Ideas
Funeral tributes of floral arrangements can be created in various designs. If the deceased was a musician, then you may decide a musical arrangement, such as music note, treble clef symbol or the shape of a guitar, is an appropriate floral tribute. A football player or big football fan tribute would be the shape of a football. Other floral tributes might be an airplane for a pilot, or an artist palette for a painter.
Deciding on the Best Funeral Flowers for Men
When you take the time to select the right floral arrangement for a man, you demonstrate how much you appreciated and loved him. The deceased's family will appreciate your thoughtfulness and the demonstration of your respect for their loved one and what he meant to you.