Losing Your Only: Interview with Dr. Debi Yohn
Dr. Debi Yohn is an accomplished speaker and author who has lectured to international audiences for decades about parenting, mental health, strategies for a successful life, and adjusting to change. In this interview, she shares her personal story of coping with grief after losing her only child.
Losing Your Only: Dr. Debi Yohn's Story
Dr. Debi Yohn has provided crisis intervention and psychological counseling to numerous individuals worldwide. Some would say she has seen and done it all. However, on November 16, 2003, while living and working abroad in Shanghai, China, she received news that would change her life forever. Her only child, Jacob "Levi" Crossley, died in an automobile accident thousands of miles away in Florida.
Like any parent who has lost a child, she grieved. Since she was a clinical psychologist, she knew intellectually what had to be done to help her with this process. However, in her time searching, she couldn't find any concrete information relating to the death of an "only child."
So she took what she learned on her journey and put it together in her book, Losing Your Only. While Dr. Debi Yohn states this is not a memoir to Levi, it is an attempt to help others and share what she has learned about understanding the loss of an only child.

Dr. Debi Yohn took some time from her busy schedule to chat with LoveToKnow about Levi and Losing Your Only.
About Levi
LoveToKnow (LTK): Please tell me about Levi.
Dr. Debi Yohn (DY): Levi is my favorite topic. He is my only child. Levi was legally named "Jacob" but he renamed himself in the second grade and the name "Levi" stuck. He was born in Saudi Arabia while his dad and I were there for six years living on a construction site. Levi was a surprise pregnancy and he changed our lives.
We moved around the world and across the United States. Levi was in 12 schools before he graduated from high school. When he passed away at the age of 20, he had already flown around the world twice. It was often cheaper for us to buy him an around the world ticket when he was meeting his dad and me. We lived in Shanghai, China, from his junior year in high school. Levi attended boarding school at Admiral Farragut Academy in St. Petersburg, Florida before attending Florida Atlantic University.
Levi was a child of the universe. He challenged limits and was not always the easiest child to raise. Life was never boring. He never did anything dangerous, but he was outspoken and would challenge teachers and some adults. Levi had learning disabilities, so he had some learned behaviors that were the result of some educators telling him he was not college material. This was a kid with an IQ of 140+, but I told him God gave him some learning disabilities to keep him humble.
Levi always did service. He ran blood drives throughout high school. I could always count on him to help me when I was doing volunteer activities. I am a social worker, so I roped him in to helping me throughout his childhood. He never complained, even when I gave away his bicycle one Christmas to fulfill a "Wish List." I was proud of him because on his own he was very active with the Disability Office at Florida Atlantic University until he passed away. Levi could not walk across campus very quickly. He always stopped to give hugs and had to speak to everyone.
Levi left me with so many lessons about life. He is still very much a part of my daily living. Losing Your Only is written for parents who have lost an only child and any child is an only child. I want parents to celebrate their child!
Understanding the Death of an Only Child
LTK: Do you think a parent ever "gets over" the loss of his or her only child?
DY: You are forever changed after the loss of a child. Can you continue to find joy and happiness? Yes. Do you get over it? Probably not. It is something you would not wish on anyone.
LTK: What advice do you have for parents who recently lost their only child?
DY: Give yourself a lot of time. Grief is long and dark but you will get through it. I would also say, do not make any life changes. This is not a time when you make good decisions.
LTK: Besides the obvious, how has your life changed since losing your son?
DY: Prior to Levi passing, I talked the talk, spiritually. Now I have to walk the walk. I want to live a life that makes Levi proud of me. I know what is important in life. I do not get hung up on the petty stuff. I what a life of serenity and joy. I want to leave this a better place because I have lived here. I want to leave my heart print.
About Losing Your Only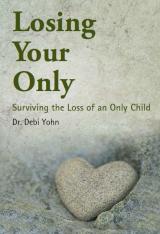 LTK: Why did you write Losing Your Only?
DY: I wanted to help parents learn from my mistakes and I also wanted parents to know what to expect with the grief process. I am a clinical social worker and a counseling psychologist and I was struggling. Once I made it through the dark grief, I realized what I did not know as I was walking that dark path. I have also learned to celebrate Levi and to be happy for him. He had an amazing life and I know he is in a great place. That is what every parent wants for their child. So when I think that Levi is happy and safe, I can smile!
LTK: How has this book helped you in the healing process?
DY: I had to do five rewrites getting this book correct. I wanted it to have the voice that was not a memoir. I wanted it to be helpful to other parents, not just me. So, yes, it was good for me, but I want it to be good for others. That is why the book was written, to help others.
LTK: What was your greatest challenge when writing this book?
DY: The greatest challenge was not making this just about my loss. I love talking about Levi, but I wanted to focus on the grief process. I want this book to help others.
LTK: How different was it for you to write this book as opposed to other books you've authored?
DY: I had to face what I did not do so well. I made a lot of mistakes as I was writing, I had to be real about my faults. I have my own regrets.
LTK: Do you have plans for another book on loss or grief?
DY: No. I am done. My New Year's resolution for 2010 was to get this book written. I knew I needed to write this book, for me, for Levi, for others who can learn from my mistakes. It feels good to hold it in my hand. I am proud of it. It is just what I wanted, but it was a process.
Buy the Book
A digital version of Dr. Debi Yohn's book (pdf format only) can be purchased online at Amazon.