Whether you live in a hot climate or not, at some point you'll probably find yourself asking, "What do you wear to a funeral in hot weather?" Check out funeral outfit images handpicked for hot weather to help you decide what to wear to a funeral in summer.
Women's Summer Funeral Outfit Ideas
What a woman should wear to a funeral in summer is something black, navy blue, or charcoal gray that will keep her cool without baring all.
Short Sleeve Short Dress
A sleeveless or short sleeve short black dress that hits just above the knee is perfect for a summer funeral. The key is to opt for a dress that looks more formal than something you'd wear during the day. You want to choose something with a higher neckline since it doesn't cover the shoulders or arms much. You can wear heels or flats.
Sleeveless Blouse With Skort
Dressy skorts can keep you comfortable and funeral appropriate. Pair a nice black skort with a flowy dark tank top that has a high neckline, like a boat neck, to keep it appropriate. Cute, strappy sandals keep the look business casual.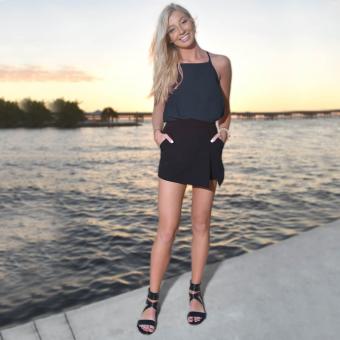 Sleeveless Maxi Dress
A good quality black maxi dress can be really comfortable on a hot day. Choose one with a high neckline, such as a halter neck, so you're not showing cleavage. Ballet flats and a dressy necklace take the outfit up a notch from your standard summer day look.
Sleeveless Pant Jumpsuit
You might not think to wear pants in summer, but light, flowy pants can be comfortable in the heat. Grab a black sleeveless pant jumpsuit and pair it with nice sandals to get a modern funeral look.
Men's Summer Funeral Outfit Ideas
Men's summer funeral options are similar to the options for other seasons, only you can do more short sleeve options in hot weather. Remember, just like the ladies, you want to keep your chest covered up.
Polo Shirt With Slacks
A nice golf shirt or polo shirt in black, charcoal, or navy blue paired with black, navy, or gray slacks is a cool summer funeral look. Don't forget to choose dressier shoes such as boat shoes.
Button-Up With Rolled Sleeves and Slacks
If you're a more traditional guy, you can wear the typical button-up shirt and slacks. To keep cool, roll the sleeves up to just below your elbow. If you lean toward more formal funeral attire, tuck in the shirt.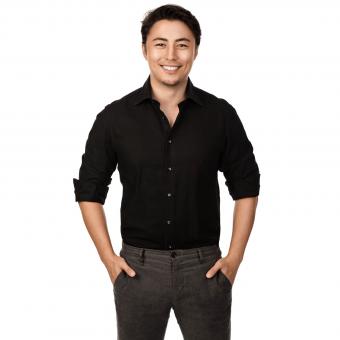 Dress Shorts With Shirt and Tie
Men's dress shorts are an option. The trick for men in wearing shorts to a funeral is to make sure they are longer, loose without being baggy, and made from a nice-looking fabric. Pairing the shorts with a button-up shirt and tie helps make the outfit look more business casual. Opt for a more formal shoe you can wear without socks.
Short Sleeve Button-Up With Slacks
Another classic option for men is to pair a short sleeve button-up shirt with slacks or dark khakis. Since short sleeve button-ups look more casual, make sure yours fits great and looks high quality.
Tips for Choosing Summer Funeral Outfits
The color and formality level of proper funeral attire doesn't change from season to season, but materials and cuts matter in summer.
Choose lightweight and breathable fabrics such as cotton, linen, or chambray.
You can wear sunglasses, but try to choose an all-black pair.
If there is an outdoor portion, a black hat is appropriate as long as it's not a baseball cap.
Another option for outdoor funeral services is to bring a black umbrella. Pick a small one that only shelters you from the sun and won't get in the way of others.
You can wear shorts (men and women) as long as they are longer, dressy, and dark.
List of Things You Shouldn't Wear to a Summer Funeral
Knowing what not to wear to a funeral in the summer can help you narrow down your outfit choices.
Avoid flip flops because they look very casual.
Do not wear any cleavage-baring tops for women, such as a plunging neckline, or chest-baring tops for men, such as a completely open button-down shirt.
Anything skin tight is usually not appropriate for a funeral.
While it might be moisture-wicking, athletic wear or active wear is typically not appropriate for a funeral.
Appropriate and Comfortable Funeral Attire for Summer
When the temperature is hot, it can be tempting to throw on less clothing for events and activities. To keep cool and respect funeral etiquette in summer, choose clothing that covers your chest, midriff, and thighs while leaving some skin, such as your arms or calves, exposed.