Giving a plant to a friend or family member who has lost a loved can be a nice sympathy gift that lasts longer than a traditional funeral flower arrangement. Whether you send a funeral plant to the location of the memorial service or have a plant delivered to a bereaved individual's home after the service, your thoughtful gift is sure to be appreciated.
Sympathy Houseplant Ideas
A number of popular houseplants are excellent choices for sympathy plants. You can opt for a standard plant, or choose one with a funeral themed embellishment, such as an angel ornament or statuette.
Peace Lily
Peace lily plants are lovely tropical plants that are a great funeral plant option. The symbolism of this plant is associated with peace, which can be interpreted as bringing peace to the recipient and/or that soul of the person who has passed is now at peace after transcending earthly existence. These plants thrive in shade and help to purify the air. They stay relatively small, growing only to about 18" in height. It's not difficult to find a place for them, even in a small house. They don't require any special care beyond light watering.
Philodendron
Philodendrons are another easy-to-grow tropical houseplant. These plants thrive in indirect sunlight or artificial light and require only moderate watering. They do not flower, but have lush dark green leaves roughly shaped like a heart, reminding the recipient that he or she is loved. These auspicious Feng Shui plants are said to bring brightness to dark areas and warmth to coldness. They also symbolize abundance, a meaning that may help remind a grieving person of their great love for the person who has passed away as well as provide hope for the future.
Orchids
While orchids do require a bit of care, they are a wonderful sympathy plant for someone who enjoys beautiful flowering houseplants. Because they are fairly delicate, it's probably to send or take an orchid directly to the recipient rather than having it delivered for display at the funeral. Orchids are auspicious Feng Shui plants believed to promote peace, serenity, and strength. Orchids also symbolize love, so expressing sympathy with one of these lovely flowering plans is a great way of reminding the grieving person that they are loved. This symbolism makes orchids a particular appropriate gift for a person who is grieving.
Funeral Plants and Trees for Outdoors
An outdoor plant or tree can make a wonderful sympathy gift when the recipient isn't likely to relocate following their bereavement. Consider send a small tree or plant, such as a shrub, to the funeral service or the home of a bereaved person that can later be planted outdoors to serve as a memorial for decades - or even centuries - to come. Of course, be sure to choose a plant appropriate for the region where the recipient lives.
Oak
A small oak tree makes a lovely funeral plant that should be planted outdoors after the service. Stately oaks symbolize endurance, strength, and wisdom, making them a wonderful memorial planting for a departed loved one. These trees start from a tiny acorn and grow to an enormous height of up to 100 feet over time. Due to the size of this type of tree, consider where the recipient lives and whether there is sufficient space to plant such a stately tree.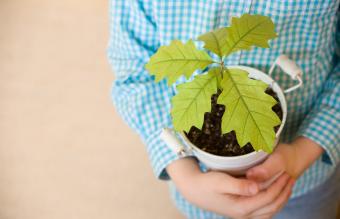 Dogwood
Much smaller than an oak tree, a dogwood can also serve as a wonderful memorial to a loved one who has passed. Dogwoods are still large, growing up to 40 feet in height if planted in the sun and about half of that if planted in the shade. The trees themselves are said to symbolize rebirth, which is certainly associated with the emotions of working through grief. These trees flower annually in early spring. The flowers are associated with durability and the ability to withstand challenges, which are certainly poignant meanings for a person coping with loss.
Azalea
If you want to give an outdoor plant but prefer a flowering shrub to a tree, consider choosing an azalea. Available in small pots, young azaleas can easily be displayed at a wake or funeral service, then planted outdoors afterwards. Many meanings are associated with azalea flowers, including taking care of family, self-care, and a fondness or longing for home. Traditional azaleas bloom in the spring, while the Encore variety blooms in both spring and fall. Dwarf azaleas generally stay under three feet tall, while others can grow to six feet in height (with an equivalent width).
Where to Find Sympathy Plants or Trees
You can purchase funeral plants from any local or online florist. This is the best option if you want to have the gift delivered to the funeral parlor or the home of the recipient. When inquiring about pricing, be sure to find out if there is a delivery charge. Most local florists will offer free shipping within a certain radius. Some online vendors also offer free shipping. If you want to deliver the plant yourself, you could even purchase from a garden center or supermarket with a floral section.
Trees/Shrubs: If you're looking to send a tree or shrub as a memorial gift, Seeds of Life is a good resource. They offer a nice selection of small trees appropriately packaged with decorative jute bags around the root and finished with a ribbon and sympathy tag. They ship to most locations within the United States, based on whether state or territory law allows trees to be delivered from other areas. Local nurseries and florists are also a good option.
Houseplants: For plants, there are a number of affordable online florists to consider, including ones that deliver internationally. These are great options, particularly if you're sending plants to a funeral service outside of your local area. If the funeral is local, consider working with a local florist or nursery rather than an online vendor.
Be sure any vendor you choose will include a customized note or sympathy message. For ideas of what to say, review these examples of sympathy messages appropriate for funeral foliage.
Sending Sympathy Plants in Lieu of Flowers
While sending flowers to a funeral service is a common gesture, giving a plant or tree is also an appropriate funeral gift to share in lieu of flowers. Flowers look lovely at a funeral service, but the arrangements are often too large to display at home after the fact. Flower arrangements are typically left at the graveside, but living plants can be kept in memory of the loved one who died, serving as a source of ongoing comfort to those who have lost a loved one. You can also opt to have a sympathy plant delivered to a specific loved one, as a way of making sure a particular individual receives a thoughtful and special memento in memory of their loved one.