A few simple and quick tips on what to wear to a funeral visitation can save guesswork and possible embarrassment. Follow these easy guidelines to pick out funeral viewing attire.
What to Wear to a Funeral Visitation
A funeral visitation usually takes place the day before the funeral. You are always dressed appropriately when you dress as though you're going to a church or another religious service. However, some families may hold the viewing just before the funeral. In both instances, funeral attire is an appropriate choice.
Funeral Visitation Dress Code
The typical dress code for visitation is dark and neutral colors. You don't want to wear anything that is flamboyant or brilliant colors. Wild, colorful prints aren't considered appropriate attire for a visitation.
Men's Dress Funeral Viewing Attire
Men may opt to wear a suit and tie. However, a long-sleeve dress shirt, suit/dress pants, and a modest tie are acceptable in many regions. A dark sports coat is always acceptable in lieu of a business suit. Men generally wear dark or neutral colors such as gray, navy blue, black, or brown.
Seasonal Visitation Attire
Men can wear seasonal attire that is made of lighter weight suit fabric. It's best to avoid short sleeves if you opt to wear just a dress shirt, pants, and tie. Winter attire may differ in style depending on the regional temperatures and weather.
Women's Dress Code for Funeral Visitation
Women may decide to wear a dress, dress slacks, plain skirt, blouse, sweater set, or a business skirt suit or pant suit. Color choices are the same as those for men: navy, gray, black, or brown. Avoid brilliant, flashy colors and wild, colorful patterns.
Seasonal Visitation Attire
You can wear seasonal attire within these strict guidelines. As a rule, your attire should cover your shoulders, and necklines should be modest. Sleeveless summer dresses or blouses are acceptable fashion wear. You may want to don a business style jacket with your dress.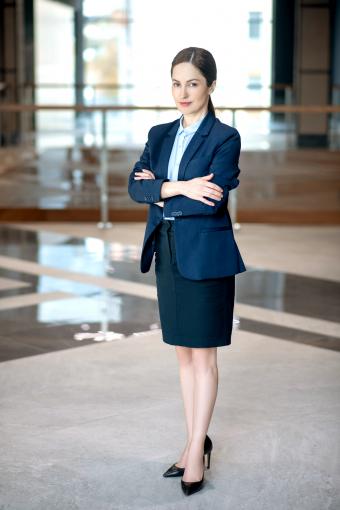 Shoes and Hats
Shoes should either be flats or modest heels, no stilettos and nothing flashy. In some cultures and regions, women wear hats. If hats are commonly worn in your community, church, or culture, then you should opt for a modest design and nothing oversized or extravagant.
Appropriate Jewelry Choices for Funeral Visitations
Your overall ensemble to be subdued and modest when it comes to jewelry choices. A simple pearl necklace and earrings, or a small gold chain with a pendant and modest earrings are good for accessorizing your outfit. If you follow the main rule to avoid all things flashy, you will end up with the appropriate attire for a funeral visitation.
Inappropriate Funeral Visitation Attire
Casual clothing and sportswear aren't considered the proper attire for a funeral visitation. In fact, such casual wear is considered offensive and demonstrates a lack of respect. Mini-skirt lengths are considered inappropriate funeral visitation attire. All types of work uniforms should not be worn.
Attire Exceptions
It is possible that you live in a very casual tropical culture where beachwear, such as flip flops, sneakers, shorts, short-sleeve polos, Hawaiian shirts, and other casual shirts are acceptable funeral visitation attire. Another exception would be a change in typical dress code by the family. In such instances, an alternative dress code would be announced prior to the visitation.
Simple, Quick Tips for Funeral Fashion
The best rule of thumb when choosing what you're going to wear to a funeral visitation is to dress conservatively. Choose dark, muted, or neutral colors and opt for modest designs and accessories.