9 Steps to Creating an Obituary
Taking on the Task
At one time or another, most people will have to know how to make an obituary, either by researching information on the individual who has died or actually writing up the notice. And even if you are not a skilled writer, the process should not be all that difficult. The key is making sure you are not so overcome with grief that you are completely overwhelmed. However, if you feel that this is something that you cannot handle, please find a close family member or friend who can help you.
Step One: Contact Funeral Home
If you are having a funeral home handle the arrangements, more than likely the director will write up the obituary, which is then processed and distributed to local newspapers for publication. However, if you want or need to write an obituary for an out-of-state newspaper, memorial website or funeral program, you will need to know what information to include. The funeral director can also help with this. The funeral director can also tell you if there are any fees associated with writing up the obituary as well as a specific length.
Step Two: Gather Information
When a loved one close to you has passed away, it is important to gather up as much personal information about him or her as necessary, therefore making the actual creation of an obituary a bit easier. For instance, you can get a copy of the person's resume to gather information on his or her professional life and accomplishments. You can also talk to family members, friends and colleagues as you collect personal information. It is always better to have more information then you will need than not enough.
Step Three: Follow a Checklist
There are certain pieces of information that should be included in the obit:
Full name including age, date and place of death and city and state of residence
Biographical information such as date and place of birth, names of parents and siblings, professional information, awards and hobbies
Names of other surviving family members including spouse or significant other, children, parents, siblings and other relatives
Names of predeceased family members
Funeral home and burial information, including memorial donations
Step Four: Keep it Legible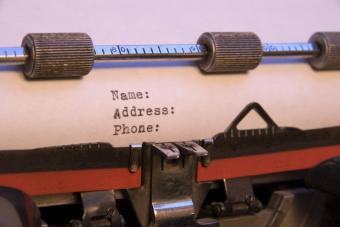 Type up and print out a copy of the obituary and keep a hard copy saved on your computer. Double space between lines for easy reading. Don't use a fancy font or colored ink. Simpler really is better in this case.
Step Five: Proofread Your Work
If possible, have another family member or close friend proof the obituary for you. It is very easy to miss your own mistakes and having another set of eyes on the copy will help prevent any unforeseen errors. Double check the spelling of all names and professional affiliations.
Step Six: Choose a Photograph
If you would like to include a photograph of the deceased person, make sure you select one that is not only flattering, but also lets the person's true personality shine through. Again, double check with the publication or funeral home director about photograph size recommendations.
Step Seven: Don't Delay
Normally, you will only have a day or two to gather information and write the obituary. Don't delay in doing this task. If you find yourself overwhelmed, request help from other family members or friends.
How to Make an Obituary Keepsake
One the obituary is published, you can keep a copy in a scrapbook along with other photos, awards and information about the deceased person's life.
Don't forget to consider cemetery monuments in your planning.