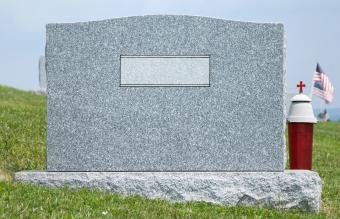 There are several types of grave markers that are common and popular choices. Compare the features of each to help you choose the best option.
What Are the Types of Grave Markers Available?
Common markers include bevel, upright, or flat markers. Other popular markers are the etched portrait, sculpture marker, niche markers, and a military marker with an honor medallion.
Bevel Markers
A bevel marker is also known as a pillow marker since it is designed to lay flat. The polished face is slanted with the back raised higher than the front. This provides an upright effect. The face is polished and can feature various engraved or sandblasted patterns or artwork, such as flowers, flags, portraits, religious symbols, and other scenes. Bevel markers are available in various sizes and colors.
Flat Marker
A flat marker is considered the most economical type of grave marker. Other terms often used include flush or grass markers. The flat marker is a very simple marker that is set flush to the ground and lays flat. The thickness is around three to four inches and traditionally, the shape is a rectangle. The surface of the marker is polished and features sawn sides. The marker may be decorated with engraved or sandblasted embellishments, such as scenes of nature, emblems, portraits, religious symbols, flowers, and flags.
Etched Portrait Marker
This marker may be purchase as a flat or bevel marker. You can have the portrait of your loved one etched into the marker. The marker has a polished finish. Other embellishments can be added, such as emblems, flowers, religious symbols, and other decorations.
Bronze Markers
A bronze marker is a plaque that is often attached to a tombstone or headstone. The bronze marker can also be attached to bevel or flat marker, if desired.
Military Marker
A military marker is typically a bronze marker that is attached to a tombstone or other upright headstone. You can apply for a military marker from the government for a veteran.
Slant Upright Headstone Marker
A slant upright marker is a headstone with a slanted front. This angled headstone or tombstone makes reading the marker easy. This type of headstone marker is between 12" and 16" high. You also have the option of adding a bronze memorial plaque. The bronze plaque is a standard for veteran markers.
Sculpture Markers
A sculpture marker is often used with a tombstone marker. It may be a separate statue or sculpted as part of the tombstone marker. You can find different shapes, such as heart sculpted in a granite marker.
Niche Markers
A bronze niche marker is used for cremation inurnments in a columbarium. The cremation urn is placed in the niche and sealed with the niche marker. Military bronze niche markers are a popular choice for those who have served in the military.
Difference Between a Grave Marker and a Headstone
A headstone, gravestone, or tombstone is an upright monument, typically made of granite. A grave marker is a flat, pillow, or bevel design, or other type of marker that doesn't feature an upright design. A bronze marker is often attached to a headstone or other type of monument as a plaque.
Cemetery Memorial Markers
A cemetery memorial marker can be something as simple as a plaque attached to a stake to mark the grave. It may be a steel or bronze plaque.
Tombstone, Headstone, or Gravestone Markers
Other types of grave markers are larger and are upright. Tombstones, headstones, and gravestones are some of the names used to describe these large upright grave markers. The majority are made of granite with a polished finish and often feature inscriptions. There are many designs and styles available, as well as custom designs that often include statues or sculptures. Bronze plaques and military medallions are some of the possible embellishments available as well as different colors.
Different Choices of Grave Marker Types
You may decide to go with a simple flat marker or opt for a more elaborate and decorative marker. You're sure to find something you like with so many choices available for grave markers.