Memorial Tributes to Mothers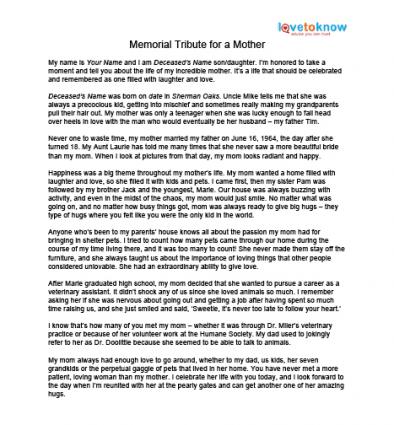 A memorial tribute to a mother who passed away is also commonly referred to as a eulogy. This is a speech that someone close to the deceased gives at the funeral as a final tribute. Writing memorial tributes to deceased mothers can be difficult and emotional. Use the memorial tribute sample provided to help you get started.
A Fitting Tribute to a Mother at Her Funeral
The responsibility of giving the memorial tribute typically falls on the eldest child of the deceased, but this is not an absolute rule. It's important that the person giving the memorial tribute is not only willing to do so, but has the ability to do so as well. In other words, a hysterical eldest child who may have a difficult time getting any words out at the podium might allow an adult grandchild who has a better ability to calmly speak in front of people to deliver the tribute.
Writing the Tribute Speech to Mom
The purpose of the memorial tribute is to give those in attendance a feel for the life of the deceased. It's a way to share favorite memories and paint the deceased in a good light. When you sit down to write the memorial tribute, first download the sample above to get an idea of what direction you might take with your speech. The printable sample eulogy is editable, so you can keep the format similar but edit in details specific to the deceased.
If you need help downloading the printable, check out these helpful tips.
Writing Tips
While writing the tribute, keep in mind that being a mother was likely the most important role in the deceased's life. Highlight the role of motherhood in the memorial tribute, emphasizing how much the deceased loved and cared for her children, grandchildren, great-grandchildren, etc.
Some other items you should consider including within the eulogy are:
Birthdate and birthplace
Memories of what the deceased was like as a child and at other points of her life
Important dates such as wedding date, graduation date, etc.
Names of her children
Occupation and/or hobbies
Mention of her faith or spirituality
Funny or warm memories
While writing the memorial tribute, think about what the deceased would have wanted said about her, and let that be your guide.
More Resources
Find more examples of memorial tributes specific to mothers using these helpful resources:
White Lady Funerals offers a sample eulogy written specifically for a daughter to deliver.
Write-Out-Loud provides an example of a eulogy where the speaker addresses the cause of death.
EverPlans has an emotional eulogy that was written by a son right before his mother passed away.
Reading through a few memorial tributes will help guide you to create a eulogy that is personalized and touching.
Deliver With Confidence
If getting up in front of people to speak makes you nervous, keep in mind that nobody expects perfection in your words or delivery. Those in attendance understand that this is a difficult time. Prepare as much as you can beforehand so that when the time comes to get up and deliver the eulogy it can be a fitting and memorable tribute to a special woman.