In Memory of My Grandfather Poems
Poetry for a grandpa who has died can help express loss. Grandfathers hold an honored place in the family, and like all family losses, it can be difficult to find the right words. If you're looking for a touching way to honor a grandfather at a funeral or memorial service, consider writing, or simply reading, a poem for your grandfather that expresses your love and gratitude for all he brought to your life.
Remembering Grandpa Through Poetry
Losing a beloved grandfather is a very personal thing to go through. The following poems are examples of ways to share the pain of that loss while still paying tribute to this special man's life.
For My Grandfather
My grandfather was a quiet man,
But his silence could speak volumes.
The warmth of his gaze said, "I love you."
The strength of his hugs said, "I will keep you safe."
The gentleness of his hands said, "You're precious to me."
His nod of approval for a job well done said, "I respect you."
In the years to come, I may not remember many of the words my grandfather spoke,
But the memories of what he conveyed without speaking a word will stay in my heart.
A Wonderful Guy

Silver-haired, with a twinkle in his eye,
Our grandpa was a wonderful guy.
His laugh could always fill up a room,
So jovial with a resounding boom.
When grandpa would come to our house to visit,
We kids relished every single minute.
He'd tell us stories from when mom (or dad) was little,
And sometimes he'd play us a song on his fiddle.
We could always ask grandpa when we needed advice,
And he never had to tell us anything twice.
He was a man you could always take at his word,
And he never had to speak loud to be heard.
Now the room will no longer echo with his laughter,
Since he's moved on into the mists of ever after.
But to those who know and love him like we still do,
His memory will warm our hearts 'til we go to heaven too.
Not Truly Gone
Grandpa slipped away,
Quietly one day.
He simply went to sleep,
No more to wake or weep.

Now we gather here
And quietly shed a tear,
As we lay him in the ground,
No solace to be found.

But Grandpa's not truly gone,
Because his memory lives on,
In all of us who loved him,
Never to be forgotten.
How I Remember Grandpa
Faded hat,
A flannel shirt,
Always digging,
In garden dirt...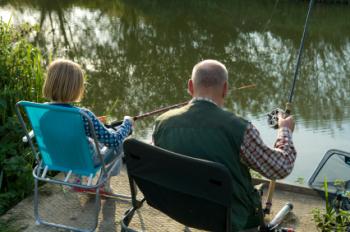 This is how I remember Grandpa.
Fishing pole,
Folding chair,
Casting into the lake,
Sitting quietly there...
This is how I remember Grandpa.
Smiling at Grandma,
Holding her hand,
Kissing her cheek,
Telling her she's grand...
This is how I remember Grandpa.
Feeling tired,
Growing weak,
Drifting in and
Out of sleep...
This is how I remember Grandpa.
Still and silent,
No more pain,
Nothing left to
Lose or gain...
I will always remember Grandpa.
Writing a Poem for Your Grandpa
Writing a poem doesn't have to be a difficult task; in fact, it can be cathartic. Gather photos of your grandfather, especially candid photos from family gatherings, and take a walk down memory lane. Start jotting down your thoughts and feelings, and just let your ideas flow freely. When you feel like you have gathered together what you want to say, try to organize it a bit. You can rhyme if it comes naturally to you, but free form verse is fine too. Once you are satisfied with your poem, you can share it with others or keep it as your personal memorial to your grandfather.