Your Marker Should Reflect You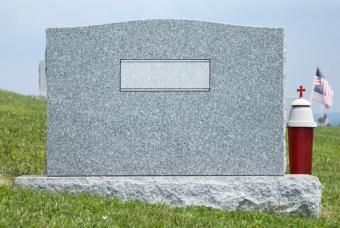 It really isn't unusual to design your own headstone before you die. If anything, it will give your loved ones one less task to handle when making your final arrangements.
Nowadays, more people are organizing and paying for their burials or cremations ahead of time. This includes picking out the caskets or urns, the burial plots and even the headstones. Deciding on all of these issues will only ensure you get exactly what you want.
Save Your Family the Money
By designing your headstone before you die, you will also save your family the money needed to pay such an item. For example, if you want something very simple, then design it and pay for it in advance. Many funeral homes and cemeteries take orders before a person dies. The final wishes are then in writing and then put in place for when the time comes.
Choose a Headstone Style
There are many elements that go into designing a headstone, including size, color, material, inscription and placement. While choosing a cemetery and burial plot are always your first priorities, selecting a style and shape of grave marker will come next.
Make sure what you choose a design that fits your taste, personality and needs.
Choice of Marker: Granite
Your next step is choosing the material in which your grave marker will be made. Granite is one of the most popular materials because it holds up well over time and in various weather conditions.
Or Bronze
Selecting a bronze headstone will give your grave marker a more traditional look and feel.
Select an Epitaph: Funny?
Your headstone does not have to be serious, especially if you were the type of person who loved a good laugh.
Or Traditional and Spiritual
Many people choose headstones with religious or spiritual sayings, inscriptions or images.
What to Add to Your Marker
You should include some type of biographical information on your headstone, so people who see it will know the person you were. This can include birth and death dates, full name, military service, occupation and hobbies.
You Can Select a Bible Verse
If you want, you can add a verse or two from Scripture. This can be one related to death or even your favorite Psalm.
Laser Etchings
If choosing a granite marker, you can select to have an image etched into the stone with laser. This can be your photograph or a copy of your favorite picture.
Statues are Usually Acceptable
You may need to check with the cemetery's rules and regulations, but many times, you can place a statue on or near your grave marker. Angels are always a popular pick choice.
The Final Product
However you design your headstone, remember that many others will see it after you are gone. Don't put anything on it you wouldn't want to see when you were alive. Since you have the ability to design your grave maker, make sure the images, inscriptions and sayings truly reflect who you were as a person.