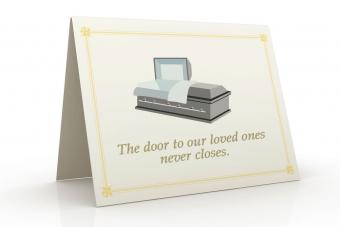 If you are creating a program for a funeral or memorial service, you may find it useful to use clip art images featuring a casket or urn. Funeral and coffin clip art can also be used to enhance a memorial tribute website or a scrapbook honoring the memory of a loved one who is no longer with you. Use one or more of the free images provided here for these types of projects as well as any other non-commercial uses.
Download Free Funeral Clip Art
To use the free images of caskets provided here, save each one that you want to use to your computer. Once you have saved the file, you can upload it to the document file or website of your choice.
To save:
Windows users: Right-click on an image and save to your hard drive.
Mac users: Control + click on an image and save to your hard drive.
Casket/Coffin Images
Three distinct depictions of open and closed caskets can be used for many printed funeral projects.
Additional Resources for Casket Images
If the free clip art images provided don't meet your needs, one of these resources may work for you.
Beautiful Tribute
The right artwork can help you create a beautiful tribute to a loved one. Choose an appropriate design and pair it with comforting words that family members will treasure forever.