Losing a father or parent may be one of life's most difficult experiences. Sometimes a poem for a dad who passed away can make the task of eulogizing a beloved father just a little bit easier.
Keep reading »
Browse Topics in Words of Comfort After a Death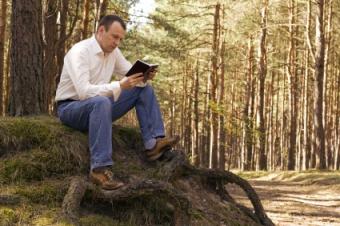 Finding the right words to comfort someone after the death of a friend or relative is no easy task. Whether you're trying to comfort someone close to you, or you need to hear some uplifting words of comfort for loss yourself, the right words can help ease the grief.
Choosing the Right Comforting Words After a Death
It's natural to say rest in peace when a person passes away, but sometimes it's difficult to know what to say to people who have just lost someone they care about, such as wanting to send a condolence message for the death of a father or mother. Words of encouragement after the loss of a loved one can often feel awkward or difficult, but there are options that will allow you to express yourself well and provide true comfort. People can express sympathy in different ways, so explore your options before you decide which way feels right to you.
Poems for a Bereavement
People have been expressing their feelings through poetry for thousands of years, and grieving through poetry can be one of the most touching ways to share your sentiments after someone has died.
There are poems for every occasion of loss, including the death of a father or mother, as well as siblings or a grandmother or grandfather. Some of the most poignant poems focus on the loss of a child, one the most difficult deaths a family can endure. When a death happens at the beginning of the year, poems about grief in the New Year might help with healing.
Comforting Bible Verses
If you're looking for a more spiritual way to express sympathy, or you're in need of some words of wisdom to help you through your own loss, bible verses can provide immeasurable comfort in a time of need. For example, Matthew 5:4 speaks of how those who mourn will be comforted. Psalm 34:18 speaks of how God remains close to the brokenhearted and those who are crushed in spirit. These are exactly the kind of words that can inspire hope in people who are grieving and looking for something to help them keep moving forward. Catholic funeral readings can help prepare you for a funeral mass.
Loss of a Pet
Pets become a valued member of the family, so when a family pet dies it's important to provide comfort. Bible verses for when a pet dies can help bring some comfort to those grieving. When you're at a loss for words, quotes about the loss of a pet can help you convey your supportive message. A poem about the death of a dog may help bring comfort.
Sympathy Notes and Words of Consolation
Many people send sympathy cards when someone dies. You can make a card more personal by including a handwritten bereavement card message with words of encouragement to express your support for the person receiving it. A sample letter of sympathy can give you an idea of what to write to your grieving loved one.
Explaining Death to a Child
One of the most difficult aspects about death is explaining it to a child. You have to be delicate and not overload the child with too much information, but you do want to be able to answer his or her questions. There are numerous children's books that provide gentle explanations of what death means, whether it's the death of a friend or family member or the death of a beloved pet.
Grieving Etiquette
Figuring out how to write a thank you note after a funeral is easier with some direction. Is it acceptable to send funeral gifts in lieu of flowers? If you're wondering if you need to send thank you notes to those who send sympathy notes, it's important to know that typical etiquette is generally excused when dealing with a loved one's death. Nobody expects a prompt thank-you when the loss of a loved one is involved.
Sharing Grief Lightens the Burden
People naturally gather when a death occurs because coming together offers a way to share the grief and lessen the burden on any one person. No matter which method you choose to share your feelings, be it a poem, verse, or simple card, your words of comfort after a death have the power to bring hope and comfort to others; choose them wisely.